Ria
Age:

29

Hair:

Brunette

Eyes:

Brown

Dress Size:

6

Bust:

32B
Phoenix
Age:

32

Hair:

Brunette

Eyes:

Brown

Dress Size:

10

Bust:

32C

Nationality:

British
Kiki
Age:

32

Hair:

Blonde

Eyes:

Green

Dress Size:

10

Bust:

34C
Leona
Age:

31

Hair:

Red

Eyes:

Blue

Dress Size:

8

Bust:

34D
Nicole
Age:

28

Hair:

Brunette

Eyes:

Green

Dress Size:

8

Bust:

34C
Porsha
Age:

30

Hair:

Brunette

Eyes:

Brown

Dress Size:

8

Bust:

32B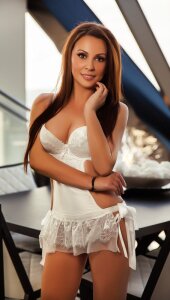 Sonya
Age:

36

Hair:

Brunette

Eyes:

Brown

Dress Size:

8

Bust:

32D
Katy
Age:

34

Hair:

Blonde

Eyes:

Brown

Dress Size:

8

Bust:

34C
Seductive Stripper Escorts
The art of the striptease is centuries old, and is still one of the sexiest things known to man. Too often, strippers are hired and they have very little skill and are just there to get their kit off. Our London escorts have trained as exotic dancers, so you can hire any of the girls below as strippers. Our girls know that a striptease is a seductive and slow exotic dance, where the girl undresses slowly. Witnessing a striptease is akin to watching your very own intimate show. The music, the effortless yet alluring dance moves and the soft lighting add to the theatre off the performances. The appeal of strippers is the act of undressing; the seductive dance of disrobing as a performance. Particular attention is paid on the outfit the girls wear. If you have a particular request then please mention when booking and we can let your chosen girl know.
For a Special Occasion
You may want to hire a stripper for a stag-do. As the best man, it is your duty to provide a party like no other. This is the night where the groom can lead his last night as a bachelor. What better present for the groom than to hire him his very own private dance. Stag-do's are known for night's filled with drunken debauchery and silly games. A stripper at a stag-do can be a fun, sexy gift to give the groom-to-be, providing his is comfortable with this. There is nothing more sexy than watching a woman slowly peel of her clothes. The seductive art of striptease is one of the most thrilling things a man can witness. At Chic London, all the escorts are trained exotic dancers, so you can expect a gorgeous woman to arrive and no exactly what she is doing. She'll tease you in to a frenzy, just make sure you keep your hands to yourself. These skilled, sexy women will provide one of the hottest nights you've ever experienced. Perhaps you want to privately hire a stripper to spice up a party. Having a burlesque themed do or want to add a little risque entertainment to a special event? The girls at Chic can provide a first-class performance you will love. Trained dancers, exotic moves and sexy strip-tease are all guaranteed to create an evening that's very voguish. You'd better prepare yourself for one of the hottest nights of your life, because escorts make the best strippers in town.