Zena
Age:

32

Hair:

Brunette

Eyes:

Brown

Dress Size:

8

Bust:

34B
Rebecca
Age:

31

Hair:

Brunette

Eyes:

Brown

Dress Size:

10

Bust:

34D
Maisey
Age:

26

Hair:

Blonde

Eyes:

Brown

Dress Size:

8

Bust:

32C

Nationality:

Spanish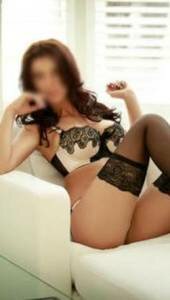 Holly
Age:

27

Hair:

Brunette

Eyes:

Brown

Dress Size:

10

Bust:

32DD
Sky
Age:

31

Hair:

Brunette

Eyes:

Green

Dress Size:

6
Kim
Age:

27

Hair:

Brunette

Eyes:

Brown

Dress Size:

8

Bust:

36DD
Sapphire
Age:

31

Hair:

Brunette

Eyes:

Green

Dress Size:

8

Bust:

34C
Phoenix
Age:

32

Hair:

Brunette

Eyes:

Brown

Dress Size:

10

Bust:

32C

Nationality:

British
Spending time with a companion can be a daunting process, but here at Chic, we do our best to ensure you have the best experience possible. If you're anxious about appearing inexperienced with one of our regular ladies, why not ease yourself in gently and spend time with a new girl? The beauties who appear on this page are all new to working with Chic London escort agency. However, if you are a regular client with the agency and are looking for something a little different, then this section will introduce you to our fresh faced new escorts.
With the popularity of men looking to spend some time with a companion increasing, it's no surprise that more girls are interested in joining London agencies. Any girl starting out as a new escort with an agency needs the opportunity to establish themselves in the industry. It can be difficult and competitive, but we like to think that our selection process means we have only the most appealing women meeting our valued clients.
When we list the new escorts London has to offer, we do so because there are always clients looking to spend some time with the new faces that appear in the galleries. We add to our repertoire of girls often, because we want to continue offering you the very best service. To keep you in the loop, we've created the 'New Girls' section so you can easily find those who have recently been welcomed into the Chic galleries.
Just because these ladies are new to Chic, it doesn't mean they lack the etiquette of working as a companion in London. All of the girls representing us need to pass the high quality standards that we require. Each of the girls on our website are exquisite and adhere to a discreet and professional manner.
Every client who visits Chic is different. There are some clients who will be looking for girls experienced in the world of companion dating. Some clients prefer to meet with the same girl time and time again. However, there are also men whom are interested in meeting escorts new to the industry. When looking for something different and exciting, look no further than the new girls at Chic.