Busty Escorts
Mia
Age:

27

Hair:

Dark

Eyes:

Brown

Dress Size:

8

Bust:

34C

Nationality:

Indian

Ethnicity:

Indian
Lacey
Age:

26

Hair:

Blonde

Eyes:

Brown

Dress Size:

6

Bust:

30D

Nationality:

British

Ethnicity:

English
Jenny
Age:

26

Hair:

Brunette

Eyes:

Brown

Dress Size:

8

Bust:

34C

Nationality:

British

Ethnicity:

English
Joana
Age:

27

Hair:

Brunette

Eyes:

Green

Dress Size:

6

Bust:

34D

Nationality:

Brazilian

Ethnicity:

Brazilian
Heide
Age:

28

Hair:

Blonde

Eyes:

Blue

Dress Size:

8

Bust:

344

Nationality:

British

Ethnicity:

English
Gina
Age:

26

Hair:

Brunette

Eyes:

Green

Dress Size:

10

Bust:

34C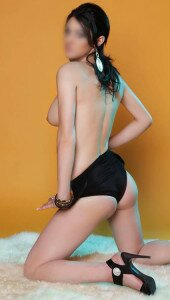 Dana
Age:

28

Hair:

Brunette

Eyes:

Brown

Dress Size:

6

Bust:

34D
High Class Busty Escorts
So many men find themselves lusting after women with large breasts. At Chic, we have been sure to include a category which caters to this desire, by featuring a gallery of girls with a C cup bust or bigger. In here, you'll find DDs, Es ,F's and even G cup breasts! If you believe that more than a handful is a must; then you have come to the right place, as these girls cater for lovers of larger breasts. Whether you're a fan of the natural cleavage, or you like the beautiful barbie girl look – you have be in seventh heaven with what we have to offer! There is something so seductive about a beautiful big breasted lady. With that extra bounce in her walk, she has an added layer of juiciness. Many men love the thought of big breasted ladies but have never had the opportunity to spend time with one. With Chic, there is no need to fantasise over stunning buxom ladies anymore, now you can meet a busty escort in the flesh! We have a well rounded selection of busty beauties available, so there is sure to be a special girl who catches your eye.
Curvaceous Companions
Here at Chic, we believe that we offer busty girls with a difference. This is because unlike other busty call girls, our ladies don't just have curves to die for, they have the personality to match. All our buxom babes are highly intelligent, socially engaging and have a real passion for meeting city gentlemen. They always dress with the utmost class – but don't mind showing a bit of cleavage if that is what you desire! These curvaceous cuties act as the perfect companion for any occasion and know exactly when and how to turn on the charm. If you have a public event that you need to attend, then feel safe to ask one of our busty escorts in London to accompany you. All our Chic girls are high class and come from well educated backgrounds, so they know exactly the right way to behave. However, they are also just as keen to meet men privately and to spend a productive evening inside, enjoying each others assets! Another added benefit to our high-class busty call girls is that they don't cost a fortune. As we have successfully built up an amazing client base in London, we are able to offer classy and beautiful girls at very affordable prices. We believe our busty London escorts are some of the very best available, and are proud to represent these full bodied women.
If you dream of a luscious busty babe then be sure to utilise the discreet and professional service we offer here at Chic London. Our classy girls have curves in all the right places and could be showing you them tonight! Our lines are open 24/7 and our busty escorts are always pleased to receive your call.
Newest Busty Escorts...
Anaiss

Age:

24

Hair:

Brunette

Eyes:

Green

Dress Size:

8

Bust:

32D

Anita

Age:

22

Hair:

Brunette

Eyes:

Brown

Dress Size:

8-10

Bust:

34D

Holly

Age:

22

Hair:

Brunette

Eyes:

Brown

Dress Size:

10

Bust:

32DD

Sonya

Age:

31

Hair:

Brunette

Eyes:

Brown

Dress Size:

8

Bust:

32D
Call now on 07540 689 791 or 07540 689 792 to book!