Brunette Escorts
Vanessa
Age:

30

Hair:

Brunette

Eyes:

Brown

Dress Size:

8

Bust:

32B
Tiffany
Age:

34

Hair:

Brunette

Eyes:

Brown

Dress Size:

10

Bust:

36D
Stephanie
Age:

29

Hair:

Brunette

Eyes:

Green

Dress Size:

10

Bust:

34D
Sonya
Age:

29

Hair:

Brunette

Eyes:

Green

Dress Size:

8

Bust:

34C

Nationality:

Spanish

Ethnicity:

Spanish
Silvie
Age:

30

Hair:

Brunette

Eyes:

Brown

Dress Size:

8

Bust:

34D
Roxanna
Age:

33

Hair:

Brunette

Eyes:

Green

Dress Size:

6

Bust:

32D
Nicky
Age:

31

Hair:

Dark

Eyes:

Brown

Dress Size:

8

Bust:

34DD

Nationality:

British

Ethnicity:

English
Naomi
Age:

31

Hair:

Brunette

Eyes:

Blue

Dress Size:

10

Bust:

34C
Mellisa
Age:

33

Hair:

Brunette

Eyes:

Brown

Dress Size:

8

Bust:

34D
Jenny
Age:

31

Hair:

Brunette

Eyes:

Brown

Dress Size:

8

Bust:

34C

Nationality:

British

Ethnicity:

English
Joana
Age:

32

Hair:

Brunette

Eyes:

Green

Dress Size:

6

Bust:

34D

Nationality:

Brazilian

Ethnicity:

Brazilian
Gina
Age:

31

Hair:

Brunette

Eyes:

Green

Dress Size:

10

Bust:

34C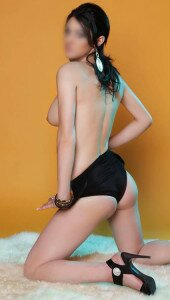 Dana
Age:

33

Hair:

Brunette

Eyes:

Brown

Dress Size:

6

Bust:

34D
Brown Haired Beauties
Whether it's long or short, chestnut or auburn, this is the place to find the best collection of London's beautiful brunette escorts. Ladies with dark hair are often extremely classy, sophisticated and intelligent, and these are just a few of the qualities that the girls at Chic London possess. There is something incredibly alluring about a dark haired lady, she has a mystery about her that makes us men want to investigate. Her beautiful eyes against her dark luscious locks have an extra added sparkle — as though there is a mischievous side longing to come out and play. Whether you like pale, olive or creamy caramel skin on girls with chestnut hair, here at Chic there will be someone who attracts you. We also offer a diverse range of girls with both light and dark brown shades of hair. Unsurprisingly, many men find brunette women incredibly attractive, but might struggle to meet them in our busy capital. Now it is easy to spend time with high class brunettes in London by using the services here at Chic.
Classy Brunettes
The wonderful thing about our high class brunette escorts is that they make perfect companions for any social occasion. Whether it be a quiet drink, a stroll in the park or a busy business function – our classy dark haired girls know exactly what is required of them. There is something incredibly natural about brunette beauties, with their warm smiles and elegant persona's — they are instant head turners. All our dark haired lovelies take great care of themselves and also of their respected customers. Whether you need a girl for a dinner date, a public party or a quiet night in a hotel – our brunette escorts in London would love to be of service to you. They will arrive as soon as is possible, depending on your location, and give you the most memorable experience imaginable. All our chocolate haired girls are sweet and sincere, with both beautiful looks and personalities. No matter what it is that you require, all you need do is ask your chosen brunette and she is certain to oblige. All our classy brunettes are available for bookings whenever the mood takes you, and our phone lines remain open 24/7. There really is no reason to hesitate when booking one of the dark haired stunners here at Chic. They offer an unbeatable high class service with a difference.
Book a brunette escort today, for a classy yet mind blowing experience. We assure you that once you have tasted the flavour of these beauties you will be longing for more. And the best part is, that with Chic escorts you will be able to have as much pleasure as you desire!
Newest Brunette Escorts...
Coral

Age:

30

Hair:

Brunette

Eyes:

Brown

Dress Size:

10

Bust:

32C

Anaiss

Age:

29

Hair:

Brunette

Eyes:

Green

Dress Size:

8

Bust:

32D

Anita

Age:

27

Hair:

Brunette

Eyes:

Brown

Dress Size:

8-10

Bust:

34D

Viviana

Age:

26

Hair:

Brunette

Eyes:

Brown

Dress Size:

8
Call now on 07540 689 791 or 07540 689 792 to book!